Image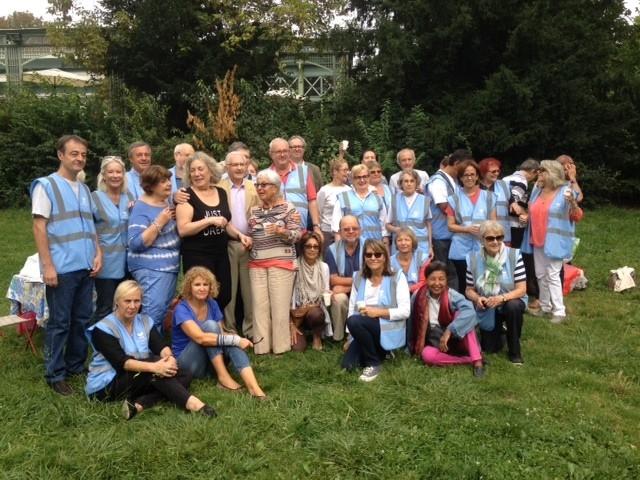 EN
Samedi dernier, 6 septembre 2014, une cinquantaine de bénévoles des Accompagnements d'Enfants Malades se sont réunis pour un pique-nique sur les pelouses du bois de Vincennes.
Ce fut l'occasion pour Danielle Dubreuque, bénévole depuis plus de 25 ans et aujourd'hui responsable des accompagnements d'enfants, d'être distinguée par la croix de l'Ordre National du Mérite. Décorée par Gerald Similowski, l'un des fondateurs d'Aviation Sans Frontières, elle a tenu à partager cette médaille avec l'ensemble des accompagnateurs.
Comme elle l'a soulignée, cette distinction est un symbole fort pour chacun, puisqu'elle couronne les efforts de nombreux accompagnateurs œuvrant chaque jour pour accompagner des enfants vers la guérison. Sans eux, sans leur altruisme et leur générosité, rien ne serait possible. Ces bénévoles apportent à chaque voyage beaucoup de tendresse et d'attention à ces petits malades quittant leur famille pour un environnement inconnu. En 20 ans, leur dévouement sans faille a permis de multiplier par quatre le nombre d'enfants accompagnés et en 2013, ce sont près de 1 200 enfants qui ont été pris en charge par des bénévoles d'Aviation Sans Frontières.
Cette décoration non seulement récompense l'œuvre accomplie par tous mais elle représente aussi un gage d'avenir pour l'équipe des accompagnements d'enfants.
News of the missions "Accompaniment of sick children in emergency care"