Image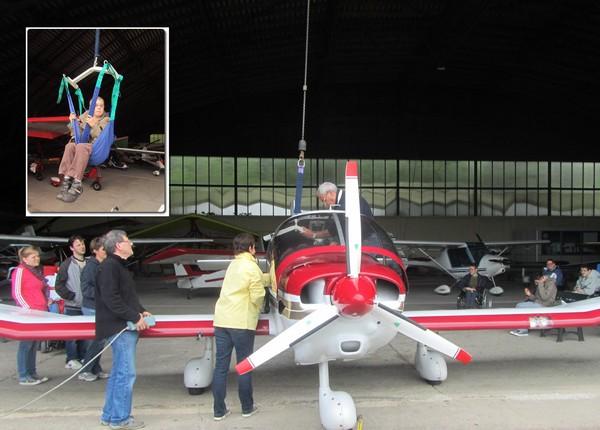 ADS Provinces -Saint Omer
Partners of choice for ASF in Saint-Omer
In 1997 Gérald Similowski for Aviation Sans Frontières and Gilbert Magnier President of the Aero-Club of Saint-Omer signed an Agreement where: "Aviation Sans Frontières and the Aero-Club of Saint-Omer decide to join their efforts to provide people with disabilities with the opportunity to take an interest in the things of the air and to make discovery flights".
In 1998 began in Saint-Omer the first Operation "Wings of Smile", it will be renewed every summer.
2013 represented the 16th campaign to combat exclusion on the grounds of disability, In 16 years, 123 days were devoted to this action, 1,565 disabled people (more than one in four in wheelchairs) were able to discover aviation and their region.
Supervised by volunteers from the aero-club and the Model Making Club, these days cannot exist without sponsorships, the Caisse d'Épargne du Pas de Calais is also a historical sponsor of this action.
The Orange Foundation, through its Solidarity Projects, must be particularly honored this year for having chosen to consistently support the 2013 wings of the Smile wings campaign on Saint-Omer, for which it is grateful.

Image
Image
Puisse cette action perdurer, elle apporte le bonheur.
Découvrez les articles parus dans la presse:
L'indépendant du Pas de Calais - 1er novembre 2013
Flash Info de la Caisse d'Epargne n°468 - août 2013
L'Echo de la Lys - 1er août 2013
L'Indépendant du Pas de Calais - 19 juillet 2013
L'Indépendant du Pas de Calais - 12 juillet 2013
Régis Trinez a survolé sa myopathie pour réaliser son baptême de l'air.
Article paru dans 'La Voix du Nord' - 23 juillet 2013
Depuis l'âge de 17 ans, Régis Trinez souffre de myopathie. Immobilisé dans son fauteuil roulant, le cinquantenaire ne s'empêche pas de rêver. Passionné d'aviation, il a même réalisé un projet fou mardi dernier. «J'ai osé», dit-il. Régis Trinez nous raconte son baptême de l'air.
« C'était un vrai moment de liberté. Pendant le vol, je n'ai plus vu mon fauteuil. » Les yeux de Régis Trinez brillent encore. Une semaine et deux jours après son baptême de l'air. Il s'est envoyé en l'air en répondant à l'invitation de son copain Gilbert Magnier, membre de l'aéro-club de Saint-Omer et délégué d'Aviation sans frontières. Les deux hommes qualifient cet instant de « victoire sur la vie ».
Pas un coup d'essai
En effet, Régis Trinez n'en était pas à son coup d'essai. « J'étais déjà monté une fois dans le monte-charge. Puis dans l'avion. Mais je suis tout de suite redescendu. » Un échec à l'époque pour lui. « Mais tu te souviens Gilbert je disais quand même que je le ferais un jour. » Mardi dernier, c'était chose faite. Régis Trinez est allé au bout de sa démarche. À bord d'un petit appareil, un Robin, il a survolé pendant une vingtaine de minutes sa ville de naissance : Saint-Omer. En prime, il a même eu droit à quelques informations historiques livrées par Gilbert Magnier aux manettes.
Alors pourquoi maintenant ? Deux éléments ont servi de déclic. « Ce sont les meetings aériens auxquels j'ai assisté ces dernières semaines qui m'ont donné de la force. » Au Bourget, Régis Trinez a été admiré l'A380. À Valenciennes, mi-juillet, il a porté son attention sur les rafales. « Si je n'avais pas été malade j'aurai sans doute été militaire de carrière. » Inutile de lui demander dans quel corps…
Annoncer son retour
Depuis peu, Régis Trinez a repris les commandes de la délégation départementale de l'Association française contre les myopathies. Il l'avait lui même créé il y a seize ans. Ce baptême, une façon d'annoncer son retour. « La déléguée précédente a démissionné pour s'occuper de son fils malade. »
Du coup, Régis Trinez n'était pas le seul à s'envoler dans les cieux audomarois. « Nous étions cinq enfants et quatre adultes adhérents à l'association. » On sent déjà poindre l'envie d'y retourner. En tout cas, Régis Trinez aura fait honneur à sa devise : « Ose ! ».
Les aéroclubs partenaires.
View (alphabetical order)