Image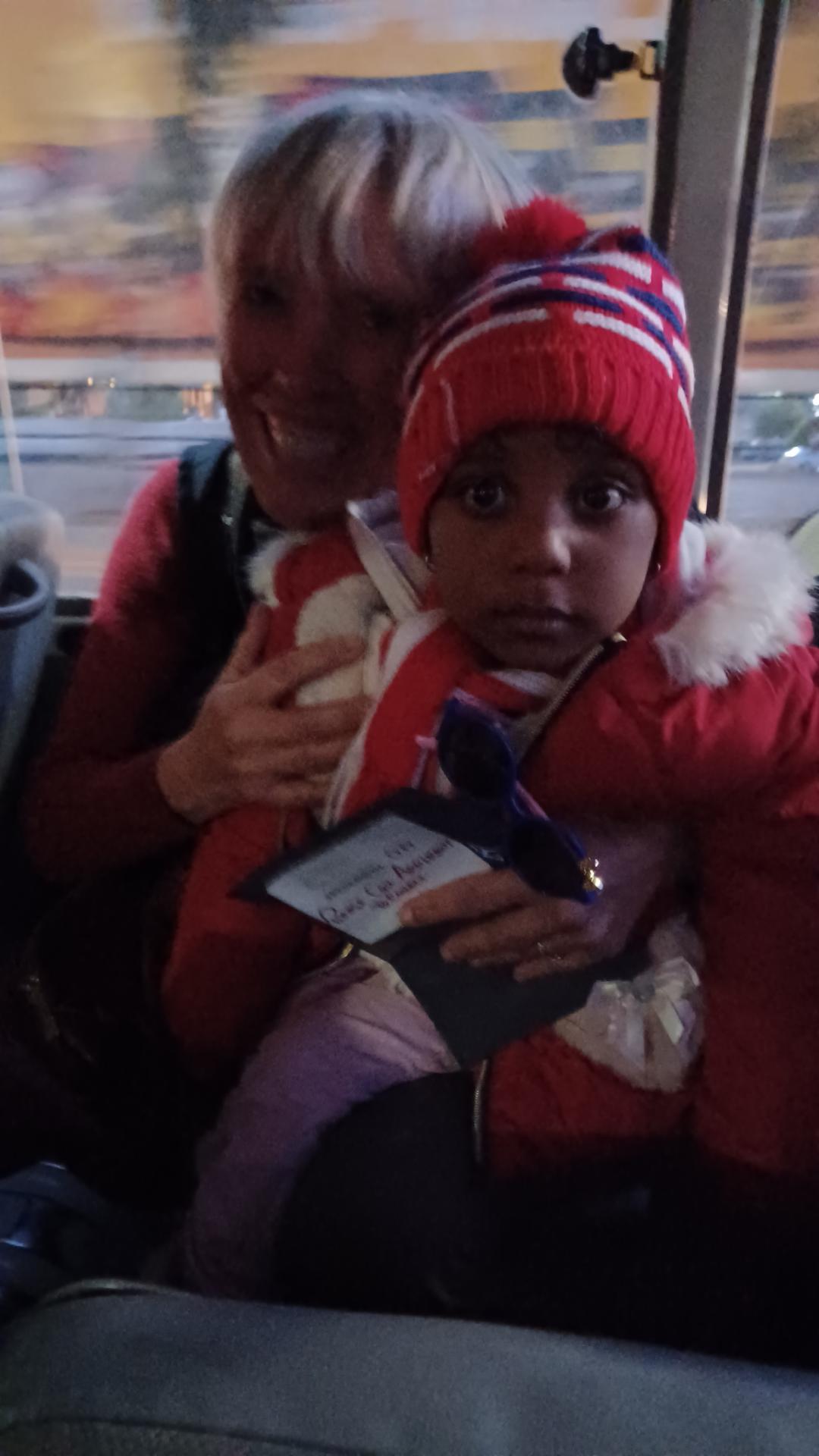 I'm getting started... volunteered to pick up Nadia, a 4-year-old Eritrean girl, whom I had to escort from Addis Ababa to Manchester. Her mum, grandmother, and other family members already live in Liverpool and haven't seen Nadia for 17 months... It is therefore with great motivation that I embark on the preparations ... grouping of documents, proofreading of instructions, reservations of plane tickets. The excitement is there, but also a little apprehension ...I don't really know what to expect.
I understand that everything must be meticulously prepared to carry out this mission in the best conditions. The 1st point, very important, is to be able to arrive at the starting point of the mission. Verification of aircraft fillings, evaluation of the different possible routes if necessary a plan B.
D-Day is coming... relief, the flight is good, I am registered for Addis Ababa and will be able to join Nadia.
Arriving in Addis Ababa, a shuttle awaits me to take me to the hotel booked by Aviation Sans F. The welcome is perfect, the hotel too.
I immediately contact the IOM (International Organization for Migration) representative in Addis Ababa to inform him of my arrival and set up the next day's appointment with Nadia. I can't wait to find her, I read the instructions and advice. Communication with Nadia will probably not be easy because there is the problem of the language, so I will have to guess her needs, know how to reassure her ... I can't wait. In the meantime, I'm taking a look at Addis .. Misery is everywhere, it cannot be ignored. I think of Nadia and her family, of all those fleeing their country, and I realize even more the importance of our missions. I go back to the hotel for a good night's rest. Rest also the next day, until the time of the appointment, in order to be as fit as possible.
Our appointment was initially fixed at the airport, but during the day I was informed that our meeting would finally be at the Transit Center in Addis Ababa. So I ask the taxi to take me there. The tension is increasing... We manage to do this not without difficulties because Addis is a huge city .. I find myself in front of a large iron gate, which someone comes to open to let me in. Things are moving very fast there. Lots of people in the yard, an incredible hubbub. A lady walks up to me and points to Nadia, a little girl lost in the crowd. she waits, already dressed in winter clothes, ready to face the less mild temperatures of Manchester. I take her in my arms, she understands very quickly that it is with me that she will leave, I guess in her eyes a little worry. We are immediately put on the bus that will take us to the airport, with other migrants. The lady who introduced me to Nadia loads her heavy luggage and then gets on with us and accompanies us. She explains that she is the one who has taken care of Nadia since she was separated from her mother. She is sad and starts crying, Nadia too. She explains to him again that she will find her mother, the sadness disappears. She tells me that Nadia knows where to take her, and that despite her young age she has never forgotten her mother, that they have maintained relationships by phone. She quickly gives me some instructions about Nadia's food, she gives me the magic word, 'popo', which will allow me to understand that Nadia wants to go to the bathroom. The emotion invades me when the bus crosses the gate, under a mixture of shouts and applause, I have the impression that we come out of a prison .. Nadia is on my lap, she seems confident..
We are dropped off at the airport, the lady slips away discreetly after a last furtive kiss to Nadia. Here I am alone with her, delighted to be able to accompany her to a better life.
The check-in is very fast, we will be next door, it's perfect. The formalities are carried out without difficulty. The wait will be long, the departure of the flight being scheduled 6 hours later. We will therefore have to occupy these few hours. Nadia turns out to be a very cheerful little girl, she is delighted with everything I offer her. We will first have dinner, then we will sit on chairs to do coloring. Nadia smiles, it's a pleasure to see her so cheerful. She will even go so far as to dance to a few musical notes from the local café. Despite the language barrier, a complicity is established between us. What a joy to know that this little one will find his mother in a few hours .. We will take care of this until the departure of the flight because Nadia does not give signs of fatigue.
We are embarking. The reunion is approaching ... As soon as she peels off, Nadia is offered an Um pouch with various games and a small plush. She is over the moon, she clutches and stuffed animals in her arms and plunges into a deep sleep. I lay her down as best I can, she doesn't even wake up at the transit stopover in Geneva, where we have to stay on the plane about 1 hour before it takes off again. She will open her eyes at breakfast time, a few minutes before landing.
Landing! the tension rises .. Nadia questions me with her eyes, I try to make her understand that yes we have arrived, that yes she will find her mother .. She won't say a word again until the exit, I try to imagine what's going on in her head..
Image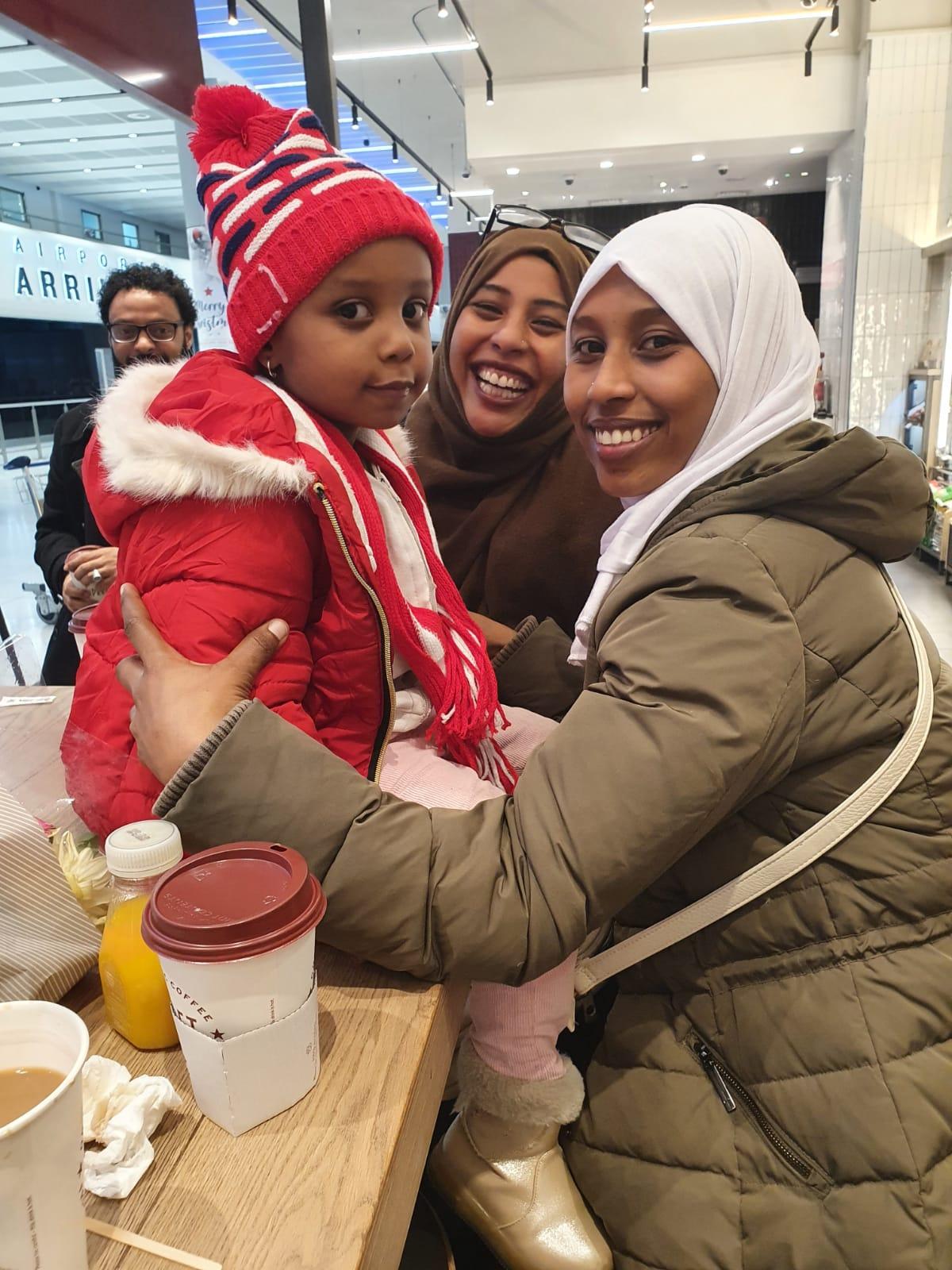 I send the messages expected by IOM, we pass without hindrance the formalities, and arrive at the luggage. The moment is very strong. We barely cross the last hall, when we hear the screams and screams of joy of Nadia's family. Everything goes very fast we approach and are not even out that Nadia's grandmother grabs her through the railings and pulls her against her. These are just tears and cries of joy. Several family members are there.. mom, grandmother, uncles .. I am caught by Nadia's mother who hugs me and keeps expressing her gratitude to me. Of course the emotion invades me .. I realize that at that moment it is on me that all their gratitude is transferred. I am thanked 20 times, they offer me lunch with them, ask me questions about Nadia's trip, did she eat or not, she cried, did she sleep ....
It is at this moment that the mission takes on its full meaning... And that we feel not only joy but also a little pride. and that we just ask to start again!